Jeweled Wolves: Confrontation
The green wolf slinked quietly along a wide, low-hung branch of a tree. Climbing trees was something his species was perhaps not suppost to be able to do, but Stick had always been unconventional. Below him on the ground was another of his species. The bright purple-blue body, marked with red, sat straight and proud and, Stick hoped, oblivious to his presence. He liked to have the element of surprize on his side.
A few inches more, and then, there! he was in position directly above the other's head. With a silent snarl he leaped from his branch, directly onto his opponent's back. Or, at least, where his opponent's back had been not two moments ago. Landing in a crouch, his teeth bared, Stick looked around frantically for where the other had gone.
There he was, several paces away, a sly look on his face. "Pandemonium is unpredictable, I'm afraid," the wolf said cryptically. With that he turned and casually retreated, leaving Stick in a whirl of confused emotions. Had he won? He wasn't sure. After some deliberation, he decided that yes, he had won. After all, the strange wolf had left his territory, which had been his goal in the first place. Trying to feel happy with his conclusion, Stick gave a shrug of his shoulders, and walked off.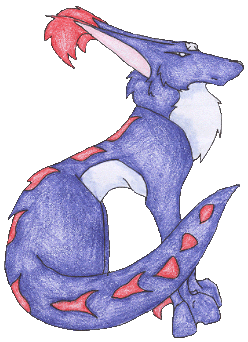 ---
Name: Stick Enraged
Gender: Male
Age: Adult
Sire: Wild
Dam: Wild
Element: Earth
Pack: Pack of the Amethyst Glow
Notes: He is a very tough and unfriendly wolf. No one knows why.
Name: Pandemonium
Gender: Male
Age: Adult
Sire: Wild
Dam: Wild
Element: Chaos
Pack: Pack of the Amethyst Glow
Notes: Its very unsual for a Jeweled Wolf to only have one name. But after he was born he was abandoned (something happened to his parents) and never recieved the second half.
Jeweled Wolves are from the Natcka Timber Lands, and are copyrighted © to AirRaiser. Used with permission.
---
Page last updated: Wed. Dec. 8, 2004
Page made: Fri. Aug. 15, 2003