Edrei and Malacka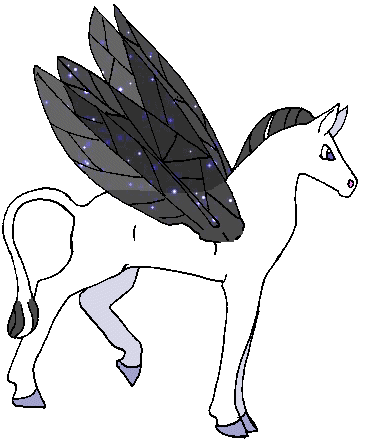 There are several equines around, but one in particular catches your eye. It is very small, but particularly well shaped, with a clean body and gracefull legs. It moves with a light spiritedness that is a pleasure to watch. The most beautiful part of it, though is the sparkling grey wings rising over its back.

You lean over to Silvanon and ask about it. "Ah, yes," she says. "He's a special one. He's name is Edrei, and he's a papillion horse. Papillion horses are native to Tir'na'bainne'gile'láir, but Darkhorse gave us Edrei as an egg, so he hatched here.

"Not much is known about papillion horses just yet. We do know that stallions have dragonfly wings, and mares have butterfly wings. It's thought that they were created by a magic flux (all sorts of interesting things pop up when those happen, you know), but no one is really sure. Papillions subsist mostly necter and insects."

"Wow," you say.

You stare at Edrei for a few moments longer, and then turn to go. "Yikes!" you yell, and jump back. You immediatly feel silly, for the animal before you is simply another papillion. This one is obviously a mare, for she has beautiful bright butterfly-wings sprouting from her back. "Sorry," you say. "I guess I wasn't expecting anyone to be there." The mare executes a low bow.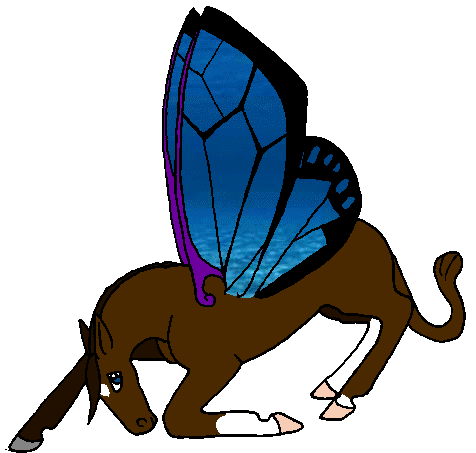 "No, no," she replies, "I must appologize, for sneaking up on you like that. It was terribly rude of me."
She seems quite sorry about it. A little too sorry, in fact. This attutide seems distictly familiar. You see the mare's mouth twitch with hidden amusement, and suddenly things fall into place. "Malacka?" you say in astonishment. "It is you, isn't it! Last time I saw you, you were just a foal. You've certainly turned out pretty."
Malacka blushes. "Thank you, friend."
A stray though seems to cross Malacka's mind, and she blushes even more. "What?" you demand.
"Oh, I was just thinking about my mate, Haram'kira'kahi. He said I was pretty too.

Look, he gave me a gift!" Malacka blushes becomingly. Suddenly a new thought seems to strike her. "Want to come with me to visit the pah'llocks?
You nod in agreement. "Okay. Oh, before we go, here's my scrapbook," says Malacka.
---

Name:
Age:
Breed:
Gender:
Mother:
Father:
Mate:
Children:
Friends:
From:

Edrei's Egg:


Edrei the Foal:


Name:
Age:
Breed:
Gender:
Mother:
Father:
Mate:
Children:
Friends:
From:

Malacka's Egg:


Malacka the Foal:

---
Page last updated: Wed. Jan. 12, 2000