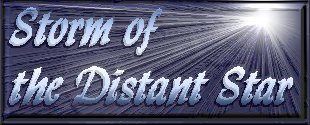 You follow Double Flame as she leads you to the next valley over. As you top the hill, you look down into the valley and see two more Flame Unicorns.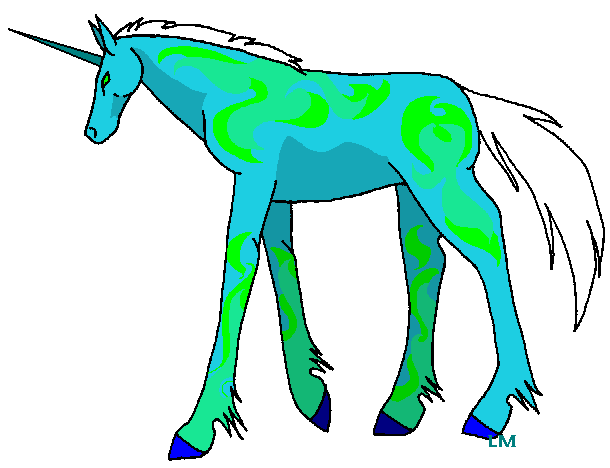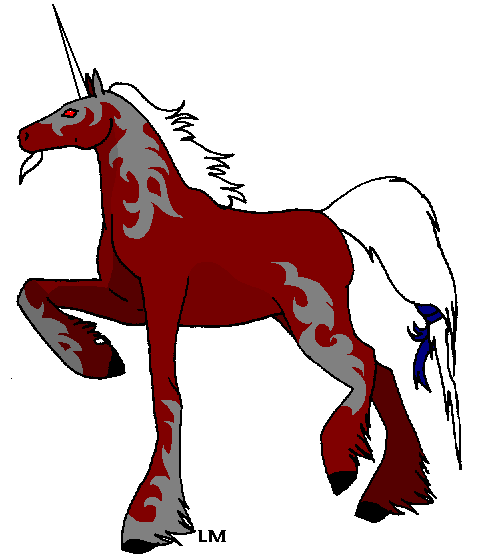 As you decend down into the valley, Double Flame speaks. "There is my daughter, Distant Sea Flame." You look at Distant Sea Flame and muse on her water-like coloring.
Distant Sea Flame suddenly notices you. She looks at you with her ears perked, approaching cautiously. She has not quite reached you, when suddenly she tosses her head and wheels about. She thunders off in a wide arc, and you turn to watch her. She's moving so quickly that the patterns on her coat seem to ripple like water.
The other Flame watches her with attendtive amusement. He prances a bit in place, tossing his head as she runs by him. After awhile, he seems to decide to notice you. He trots right up to you and nods. His eyes reflect welcome, but you sense the lightening behind them. You'd better treat this one with respect. "Thank you for allowing me to visit you."
"Such courteous visitors are always welcome," he stats. "My name is Thunder Blood Flame. Would you like to meet our daughter?"
A bit surprised, you nod. Thunder Blood Flame whinies, and in a moment, a mare comes running over the hill and into view. She is obviously Thunder Blood's daughter, from her coloring, though she has her mother's horn color.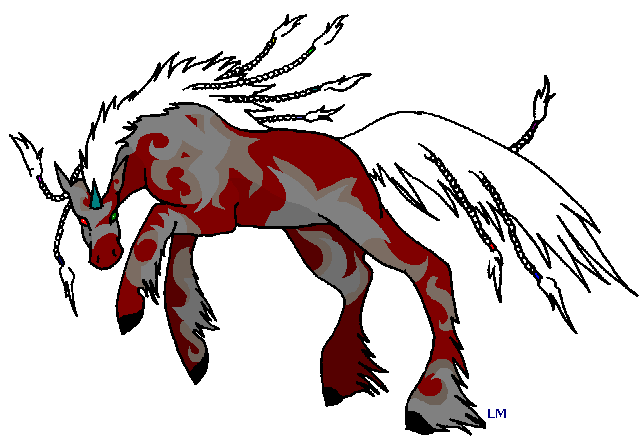 The mare runs up to you, kicking up her heals every so often. Finally she comes to a halt just in front of you. "My name is Distant Thunder Flame. Would you like to see our scrapbooks?"
---
Scrapbooks:
---
Page last updated: Tues. Nov. 23, 2004
Page made: Fri. July 12, 2002