Rakish
You are walking about minding your own business, when something leaps out at you. You scramble backwards just in the nick of time.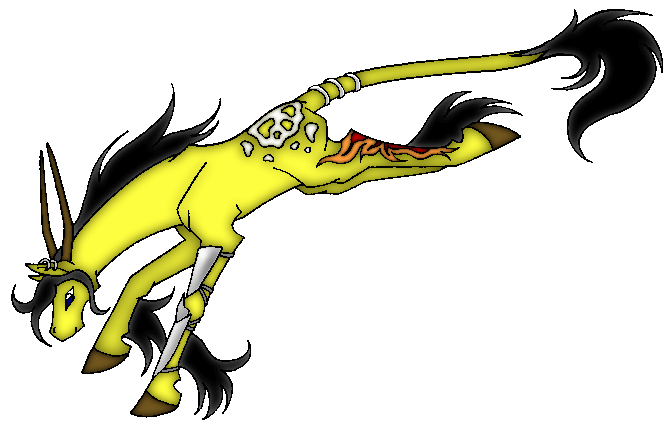 The mare looks at you, fire in her eyes matching the flame marking on her back legs. "Who are you, and what are you doing here?" she demands.
"Hala!" Silvanon exclaims, coming up beside you. "This is my guest, whom I'll vouch for. All is well."
Hala snorts, but backs off a bit. She gave you quite a scare, but now that you have a chance to really look at her....there is a strange sad depth to her eyes. Your heart goes out to her. She doesn't seem to want your pity, though. She nods to you briefly before disappearing into the underbrush again.
"You'll have to excuse Hala," Silvanon explains. "She's been through a lot, and has a hard time trusting people. She's a survivor, though. I think she'll pull through alright."
There is a rustling in the bushes, and suddenly another creature steps out into view. He looks at out out of the corner of his eye, an impish expression on his face. A second creature follows him.
The first prances about in a circle around you. "Not too bad, not too bad," he says in a laughing voice. "Perhaps Hala was right to be suspicious of you." (There is an angry rustling from Hala's bush.) He gives you an elaborate bow. "Sir Jishin, at your service." (Now the bushes sound truly enraged.) "Ah, pardon me, but I forgot. My services are already engaged elsewhere."
"You promised not to leave me!" says Hala's voice.
"And I never will." Jishin replies with cheerful tenderness. "Please excuse me." He trots off towards Hala, leaving you with the other creature. He grins a bit wryly, and shakes his head. "My parents," he comments. "Would you like to see our scrapbook?"
---
Scrapbook:
Name: Hala'Tah'Zreniz
Translation: Fire's Fated Warrior
Race: Rakish
Gender: Female
Age: Adult
Mother: Selen'Kirakira
Father: Getru'Lize
Birth Tribe: Fallen Heavens
Gifts: Fire & Strength
From: The Star Fissure
Name: Jishin
Translation: Earthquake
Race: Rakish
Gender: Male
Age: Adult
Mother: Wild
Father: Wild
Birth Tribe: Unknown
Gifts: Earth & Dance
From: The Star Fissure
Name: Pomi'Quiern
Translation: Earth Dancer
Race: Rakish
Gender: Male
Age: Adult
Mother: Hala'Tah'Zreniz
Father: Jishin
Gifts: Earth & Dance
From: The Star Fissure
---
Page last updated: Tues. Nov. 23, 2004
Page made: Fri. Aug. 9, 2002