Rackon
Your ears faintly detect a small rustling in the underbrush behind you. You turn around to see what small fuzzy animal is there...yikes! That's no small animal!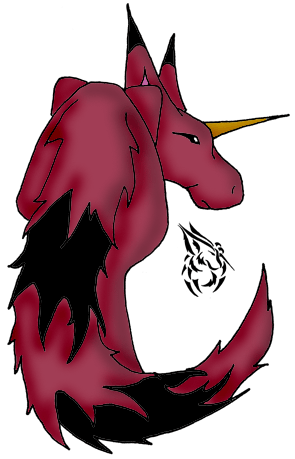 You marvel at how a creature that large could have made so little noise. You look at his expression and wonder nervously if he's friendly. He looks so serious....he swishes his tail once in a quick gesture, and then begins to move off. Just before he disappears into the underbrush, you catch a brief twinkle of amusement in his eyes.
You puzzle over the encounter for awhile, then finally decide to continue on your journey. Carefully you push aside the bushes just in front of you. Whoa! You didn't expect the sight that meets your eyes. It's another of those large creatures! You see immediately why you missed her presence before--she's the same light green color as the new leaves on the bushes. She looks up at you, her eyes hold almost the same amused seriousness as the other. After a moment of staring, you quietly back away and choose another path.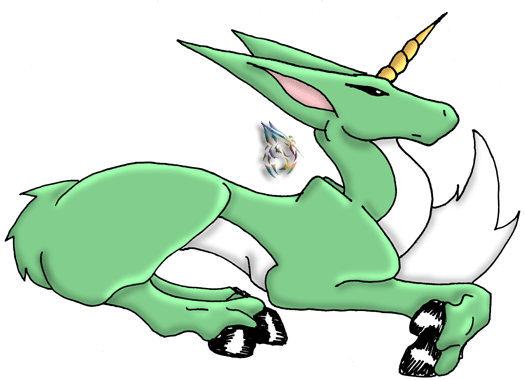 ---
Name: Esuken'Dubon
Meaning: Dawn Blossom
Gender: Stag
Sire: Wild
Dame: Wild
Species: Rackon

Phenotype:
Body Type: L L
Horn Type: p* p*
Gender: X Y
Coat Pattern: N y*

Notes: He is more of a loner
and perfers to keep to
himself when around others.

Name: Suk'Nei'Vubosom
Meaning: 'Sea Of Green'
Gender: Mare
Sire: Wild
Dame: Wild
Species: Rackon

Phenotype:
Body Type: L L
Horn Type: T T
Gender: X X
Coat Pattern: N y*
Rackons are from The Enchanted Forest, and are copyrighted © to AirRaiser. Used with permission.
---
Page last updated: Tues. Nov. 23, 2004
Page made: Sat. Feb. 15, 2003