Miss Peppermint
Over the next hill, you see a strange equine. She is a light peppermint green color, with red and green stripes. You watch in amusement as she canters about, clearly having the time of her life.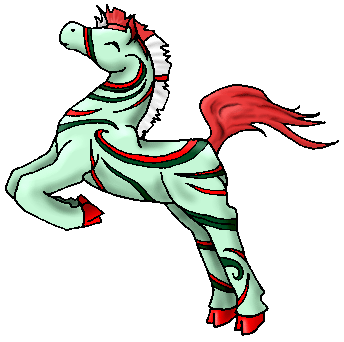 Peppermint continues to dash madly about for a few more minutes. You can tell exactly the moment when she notices you--a shock goes right through her. "Oh! I didn't see you there!" she cries out. Then she grins and trots towards you. "You ought to let people know when you're there, otherwise you'll be giving frights everywhere you go!" she scolds you in a friendly, teasing voice.
"Heh, sorry," you reply. "I was just having fun watching you run."
Peppermint's grin grows wider. "Ah, I see. Yup, I love to run. Gotta get my excersize! Speaking of which, I've got another twenty minutes before I'm done. See you around!" With that, she takes off running again.
---
Name: Peppermint
Gender: Female
Species: Serian
Altar: Arctic Winds
Special Stats: Elemental (Snow)
Circle: --
From: Sionayra

Note: Peppermint was a gift from Foxxfyre in the 2002 Orchard Secret Santa Swap. :)
---
Page last updated: Mon. Nov. 7, 2005
Page made: Tues. Dec. 31, 2002