A Grassy Spot

You notice a small grassy knole. The sunlight falls on it warmly, and it seems an entirely pleasant place. Suddenly a small equine form walks up over the hill. She walks with a decided bounce in her step. She sees you, and calls out, "Haram Salu, traveler. Sella Li!" You suddenly realize that it's Yiv'Cresla, who you last saw as a shy foal. She seems to be much more outgoing now.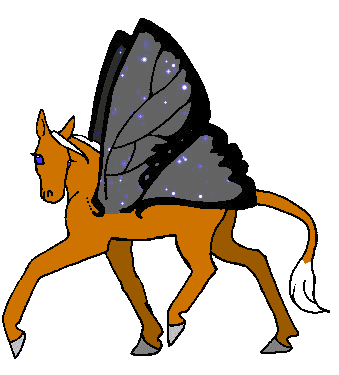 She pauses and looks at something in the grass, then beckons for you to come over. You walk over...and something leaps up at you from out of the grass!

"Yikes!" you yell, and jump backwards. Once your heartbeat returns to normal, you realize that it's a strange gryphon. Which is currenly on the ground, rolling with laughter.
"This is Moryiv," Yia'Cresla tells you. "Her name means Red Night. Malacka put me in charge of her, now that I'm grown up."
"Hey," exclaims the gryph, sitting up. "I can talk for myself!" You politely turn to her, upon which she emphatically says, "Sella Li!" She then bursts into helpless giggles again.
Just then you hear two voices behind you. You turn, and see two strange creatures.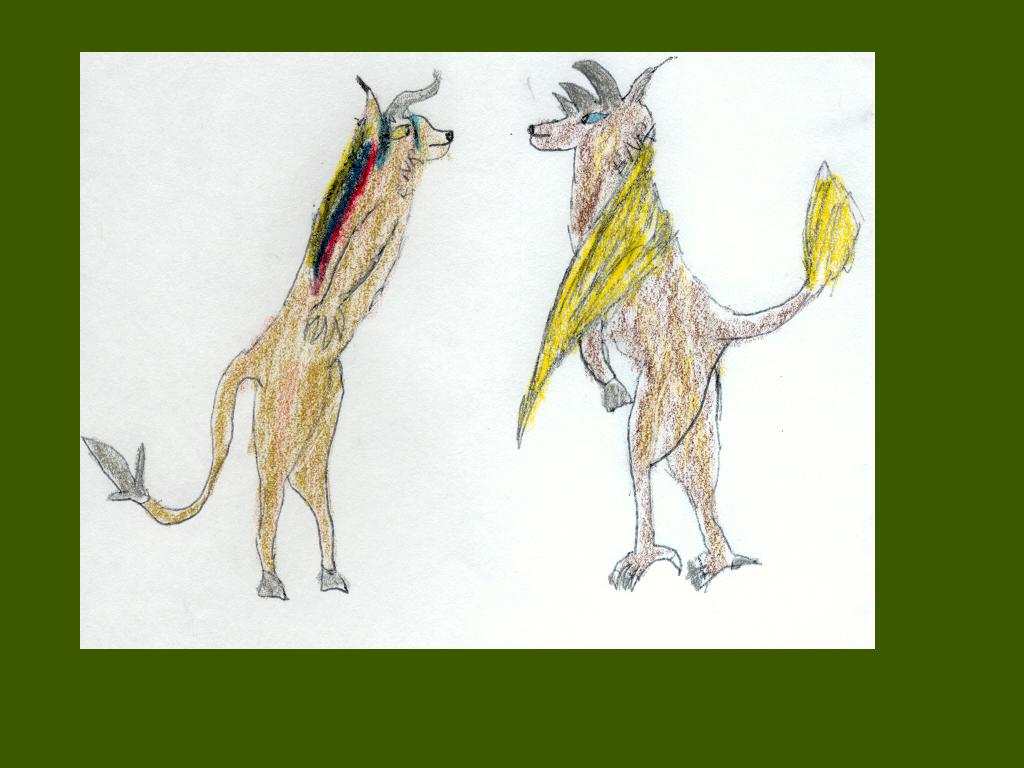 "Er, hello..." you say.
The creature on the left, the one with the rainbow mane, laughs. "Don't know what we are, do ya?" she says. "Awe, come on, sis, we're rare. Not everyone knows what a Gamion'Tarrat is." The sister wrinkles her nose at her yellow-maned brother. "Well, we know!" she exclaims finally. Then she turns to you. "Now you know too, huh!" The brother shakes his head. "My name is Kish, and my sister here is Namba," he tells you. "We were a gift to Silvanon from Ellen."
Just then you hear a clear, high voice calling out, "Namba, Kish! Where are you?" A draconic bugle follows the question. The twins both duck their heads. "Ah! There you are!" the voice says, and you turn to see a very strange, if beautiful sight.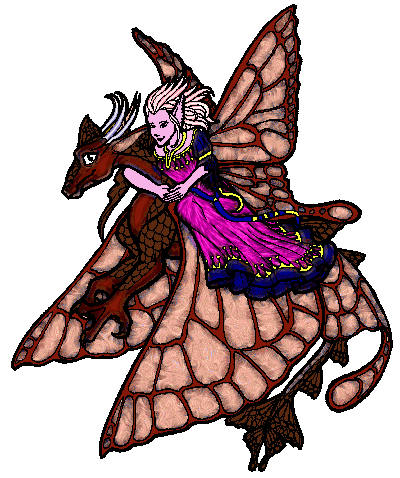 A beautiful elvenish lady rides on the back of a scaly red dragon. She is sitting side-saddle, and her skirts flutter in the breeze. and at first you wonder at such an odd pair. You do not wonder for long, though, as you see the kindly look in the dragon's eyes.
"Sorry Glysandra," Namba says, doing her best to sound repentant. "We just wanted to get a look at the traveler."
"Morrank and I have been searching all over for you two," scolds Glysandra gently. "You are certainly a handful!"
Kish grins mischieviously and states, "Silvanon wouldn't have asked you to look after us if you couldn't handle it. You're a good guardian."
Glysandra laughs and shakes her head at this flattery. She then turns to you, and holds out a hand. "Hello, traveler, I'm pleased to meet you. As you may have heard, my name is Glysandra. I just recently moved to the meadow. My previous residence was in Ceeshell's Universe." Glysandra then hands you a scrapbook.
Suddenly you notice a scrapbook lying in the grass nearby.
---

Name:
Age:
Breed:
Gender:
Mother:
Father:
Mate:
Children:
From:


Yiv'cresla (Snowy Night)
Adult
Papillon Horse
Female
Vahdi
Hanim
Nope.
Ah...
Tir'na'bainne'gile'láir

Name:
Age:
Breed:
Gender:
Mother:
Father:
Mate:
Children:
From:


Moryiv (Red Night)
Hatchling
Parrotgryph
Female
N/A
N/A
Don't think so.
Ah...
Greyhaven

Name:
Age:
Breed:
Gender:
Mother:
Father:
Mate:
Children:
Friends:
From:


Kish
Adult
Gamion'Tarrat
Male
N/A
N/A
Don't think so.
Ah...
Namba & Glysandra
Ellen

(Gamaion type)
Head: Wolf^, human^^
Ears: Cat, Cat
Body: Horse, Horse
FFeet: Unicorn, bald eagle
Bfeet: Mix^, horse
Tail: Mix^, lion
Head piece: Blades, eyes^
Mutation: No, No

Name:
Age:
Breed:
Gender:
Mother:
Father:
Mate:
Children:
Friends:
From:


Namba
Adult
Gamion'Tarrat
Female
N/A
N/A
Don't think so.
Ah...
Kish & Glysandra
Ellen

(Tarrat)
Head: Cougar, horse^
Ears: Wolf, Wolf
Body: Mix, girraffe^
FFeet: Bincula^, mix
BFeet: Horse, unicorn^
Tail: dragon^^, Mix^
Head Piece: Horns^,Horns
Mutation: No, yes^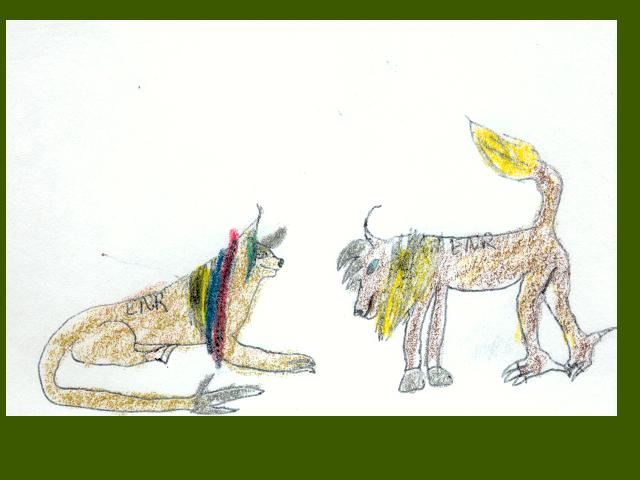 Name:
Age:
Breed:
Gender:
From:

Name:
Age:
Breed:
Gender:
From:
---
Page last updated: Wed. Jan. 12, 2000