Borbul & Je's Spot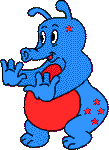 You come upon a bright blue creature, speckled with red stars. The creature smiles at you as you approach, and begins gesturing. Silvanon notices, and comes over. "This is a crater creature," she tells you. "His name is Borbul. He came to me from Crater Creature Adoptions. Being from the moon, he doesn't speak Earth languages very well yet."
You turn to Borbul and carefully say, "I'm glad to meet you, Borbul."
Borbul smiles widely and says "Happy. Happy to meet." Then grabs your hand, and drags you towards a large flower growing nearby.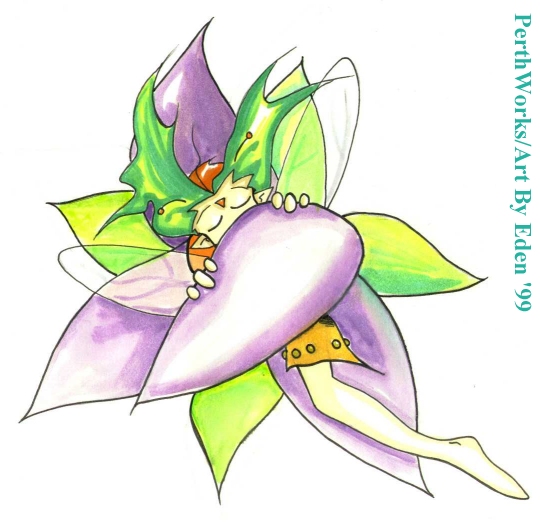 "What an odd flower," you say as you peer at it. Suddenly you realize that it isn't all flower. There's some kind of creature in there, curled up in petals and fast asleep. "What is it?" you ask.
"Ah," says Silvanon. "This is our Yknit, Je. She's a sweet creature, but incredibly active, and I'm afraid she's not very intelligent. Borbul takes care of her for us. He seems to have infinte patience with her. Most of the meadow much prefere her asleep."
"What exactly is a Yknit?" you ask.
"Ynits are from the planet Perth." They're considered a type of insect. They come from Perth Wandflowers, and look rather like fairies, except they only have one foot. As I said, they tend to be hyper and not very intelligent."
Just then you notice a small book sitting nearby. Borbul sees you looking at it. He picks it up and hands it too you. "Scrapbook," he tells you.
---
Name: Borbul
Age: Adult
Type: Crater Creature
Gender: Male
Mother: N/A
Father: N/A
Siblings: N/A
Mate: Nope.
Children: Nope.
From: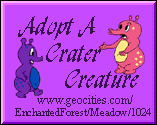 Borbul's Certificate: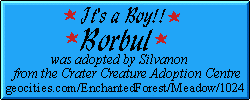 Borbul's Egg:


---
Name: Je
Age: Adult
Gender: Female
Breed: Yknit
Mother: N/A
Father: N/A
Siblings: Here
Mate: Nope.
Children: Uh...
From: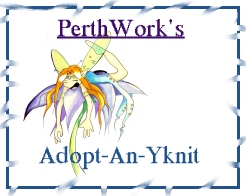 Je's flower: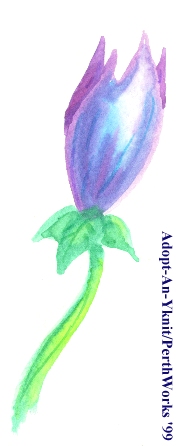 Page last updated: Tues. Jan. 11, 2000