Amanayrs
*munch, munch* Canose sa Okan happily chewed on his latest mouthful of clover, savoring the sweet flavor. The bite sufficiently chewed, he swallowed it and looked around for more. Casting his glance around his hooves, he saw that he'd exausted the clover supply in his immediate vicinity. Time to move on a bit.
Lifting his head, he searched around for his companions. He soon spotted Tyralaenr'ehrnanya--she was not eatting, but rather, was looking up at the mountains. Her longing was easily discerned. Ah well, he supposed it was only natural that she desire the windy heights of the mountains. She was an air breed, after all. Mentally shrugging to himself, he called out to her. "Wind, let's go mountain climbing, shall we?"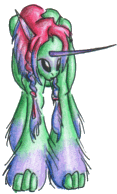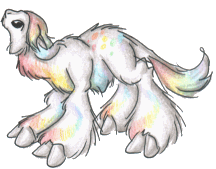 She looked up at him immediately, a small smile forming on her face. "Oh, yes please! I'll call the others." With that she trotted quickly to the top of the slope she was on. "Hey you two, come on! We're moving up the mountain." The two other members of their group were not as enthusastic, but they still complied--next time it would be up to one of them to choose the grazing ground. Such was the way of their group.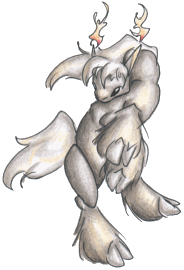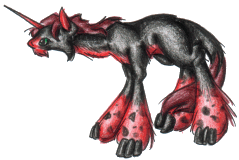 ---
52
name: Tyralaenr'ehrnanya
meaning: Wind's Pallet
gender: female
parents: wild
breed: air (pure)
soala: Mystery's Pallet
53
name: Canose sa Okan
meaning: Circles of Mystery
gender: male
parents: wild
breed: unknown
soala: Mystery's Pallet
54
name: Karysenr'dyryso
meaning: Flame's Dance
gender: female
parents: wild
breed: karysela, or fire mage
soala: Mystery's Pallet
notes: She can call and control flame, and the physical aspect of her magic are the two flames that reside over her ears. They can't actually burn anything, but will flare up when she is under great stress or emotion.
55
name: Naysyrna'okalyr
meaning: Lavaflow
gender: male
parents: wild
breed: unknown
soala: Mystery's Pallet
notes: Is completely recessive in all traits. Also has colored eyes, a mutation.
Amanayrs are from Tekra'sa'kreenase'dyrysoky. Amanayrs are copyrighted © to Skysong. Used with permission.
---
Page last updated: Thurs. Dec. 29, 2005
Page made: Sat. Jul. 26, 2003