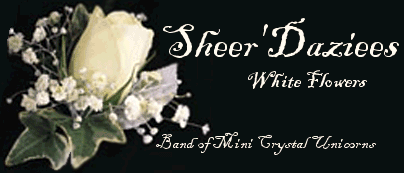 Welcome to Sheer'Dazies, Band of the White Flowers.
Members
Note: IDs listed under "Restrictions" indicate crystals that individual may not breed with.
Offspring
---
Approved Fosterers
Please note that some Band members may require permission before you can have a breeding from them. For those that don't require permission, please still notify the parent's caretakers when you get a foal. If you get a foal from this band, please notify Silvanon at silvanon@hotmail.com.
---
Page last updated: Tues. Aug. 9, 2005
Page made: Thurs. April. 15, 2004